HEARD IT THROUGH THE GRAPEVINE 🍇
★★★★★ - "You can tell it is amazing quality as after several washes it's still holding the graphic with no fading. It fits true to size. I love to tie it into a little knot on the side. Everyone thinks it's super cute & wants to know where I got it."

- Lindsey Cooley

★★★★★ - "I bought this last year and I absolutely love it! The material is so soft and it definitely keeps me warm during the colder months! I will definitely be buying from them again!"

- Theresa Meier

★★★★★ - "I absolutely love this tee! It's so soft and fits great! I get so many compliments on it 🖤🖤"

- Kelley Morrison

★★★★★ - "I absolutely LOVE this shirt so much!! It is soo stinkin' cute and honestly the most comfortable T-shirt I have ever owned in my life!"

- Ali Plant

★★★★★ - "I love everything about this sweater. The slogan, the fabric, the colour and it is sooo comfy."

- Marlies Van Asten

★★★★★ - "So soft and comfy! These shirts have such interesting prints, and I ALWAYS get compliments. They wash so well too, no complaints. Buy it!"

- Gillian Kyne

★★★★★ - "I love wearing this shirt to the gym! I can show everyone how I fuel my workouts, just plants! Definitely an eye-catching design...I really love the quality, nice and soft and durable after multiple washes!"

- Zoe Sand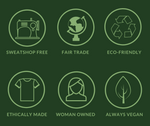 Taryn's Blog
  Chickpeas are one of the most versatile foods and they just happen to be DELICIOUS! They are hearty and full of protein. I like to...
It finally happened! I moved to downtown LA to be closer to Biz Babez. The move was a bit of a process since I was coming from...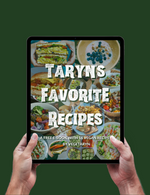 Taryn's Favorite Recipes: A Free eBook with 16 Vegan Recipes
Don't know what to make?
Need some inspiration?
Download this FREE ebook with 16 easy & simple recipes anyone can make! 
DOWNLOAD FOR FREE NOW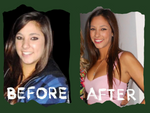 My Story
Hi, my name is Taryn, welcome to my website! Vegetaryn is my business that I started in 2014. I have had quite the journey learning how to build a website and brand. I've taught myself photography, graphic design, food styling, and marketing. I style and shoot all of the content, as well as, create the designs for the merch and products sold on Vegetaryn.
I am an animal loving, veggie eating, big kid for life, living in the PNW with my fiancé, Alex, our boston terrier, Cudi, and rescue pig, Penny. Growing up, I've always had an affinity for....
READ NOW