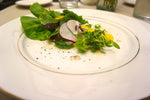 Plant-Based Pop Up Dinner By Chef Loghan Call ★★★★★
Last Saturday I had the opportunity to attend Chef Loghan Call's Plant-Based Pop Up Dinner. 90% of the food was from local farms such as Alegría Farms. Everything was so flavorful, fresh, and delicious. I HIGHLY recommend signing up for one of Loghan's dinners!
Join me as I take you on a picture journey of what was included in the Five Course Tasting Menu:
Drink: Golden Beet Mojito Red Beet Rocks - Mint - Rum 
Amuse-Bouche:  Popcorn Coconut Herb Butter - Tumeric - Pink Himalayan Salt (not pictured)
Appetizer:  Alegrías Farm's Tasting Plate w/ Mint Guac Kohlrabi - Swiss Chard - Edible Flowers
Salad: Spring Salad w/ Grapefruit, Blood Orange Dressing Baby Fennel - Butter Lettuce - Shaved Beets - Micro Cilantro - Black & Easter Radish - Baby Kale - Charcoal Sea Salt - Ground Pepper 
Appetizer Part Two: Sautéed Green Beans & Seeds w/ Mustard Green Infused Olive Oil Hemp Seeds - Brazil Nuts - Alaela Hawaiian Sea Salt 
Entrée: Cauliflower Millet Mash w/ Asparagus Stuffed Collard Greens Crimini Mushroom Gravy - Yellow Onion - Green Onion Flowers 
Dessert: Cornbread Cake Coconut Whipped Cream - Strawberry Reduction - Cacao Cream 
My FAVORITE part of the meal was the Asparagus Stuffed Collard Green it was a burst of flavor in your mouth! Everything was presented perfectly and I enjoyed every single bite! I can't wait for the Chef Loghan Call's next Plant-Based Pop Up Dinner. 
For more information on Plant-Based Pop Up Dinners check out Loghan's instagram:
@loghancc 
Peas Out ☮
Taryn