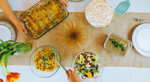 VEGAN THANKSGIVING UNDER $45
HOW TO HAVE A VEGAN THANKSGIVING UNDER $45 FOR 4 PEOPLE 
INGREDIENTS:
Whole Foods Multigrain Stuffing Mix (or any other vegan stuffing mix)
1 and 3/4 cup of Veggie Broth
Earth Balance Vegan Butter
Lightlife Foods Tempeh (or any other tempeh)
Pacific Foods Vegan Mushroom Gravy
Fresh Dill, Chives, & Rosemary 
3-4 Medium Sweet Potatoes 
Dandies Marshmallows (or any vegan marshmallows)
1 cup of Maple Syrup
1 tbsp. of Vanilla Extract
2 tbsp. of Pumpkin Pie Spice (or cinnamon)
1 head of Cauliflower
5-6 Mushrooms 
1 Onion
4 Garlic Cloves
2 Bags of Frozen Green Beans
Seasonings: Salt-Free Seasonings, Salt, Pepper, & Kelly's Croutons Nutritional Yeast (or any other nutritional yeast)
STUFFING:
STUFFING is one of my favorite parts of Thanksgiving! However, when I was a kid and found out stuffing was cooked inside the asshole of a turkey I was mortified to say the least, and stopped eating stuffing. Now, I love eating stuffing on Thanksgiving knowing that it's all vegan and no turkeys had to die 🐔❤️ To make this vegan stuffing pictured above just use 1 pack of Whole Foods multigrain stuffing mix, 1 and 3/4 cup of low sodium vegetable broth, 2 tbsp. of Earth Balance vegan butter, and a couple stalks of fresh rosemary. Just boil vegetable broth, butter, and rosemary. Then remove from heat, add packet of stuffing, mix around and fluff with fork as needed!
GREEN BEAN CASSEROLE:
First, I steamed a head of cauliflower, and while that's steaming, I grilled 1 onion, 4 garlic cloves, and 5-6 mushrooms. Then I added the cooked cauliflower and HALF of the onions, mushrooms, and garlic into my Vitamix with some salt free seasoning. I blended the mixtures until pure. I then added the frozen green beans to the other half of mushrooms and onions. Then, using a large baking pan (see picture above) mix the cauliflower purée,  green beans, and the rest of the onions, mushrooms and garlic. Mix/spread around baking pan so it's evenly spread out. Sprinkle hemp seeds, garlic powder, and salt-free seasoning on top and cook at 375 degrees for 15 minutes✌️
SWEET POTATO PIE:
My second favorite part of Thanksgiving is always the sweet potatoes, especially when they are served with vegan marshmallows! I know you can't see the sweet potatoes here, but they are under there I promise! To make this sweet potato pie just wrap 3-4 medium sweet potatoes in some wet paper towel. Heat them in the microwave for about 5 minutes each. Once cooked, peel if desired, and mash with 1 tbsp. of Earth Balance vegan butter. Add 1 tbsp. Of vanilla extract, 2 tbsp. of pumpkin spice (or cinnamon), and 1 cup or maple syrup. Once mixed together add to a baking pan, top with vegan marshmallows, and cook at 375 degrees for 12-15 minutes, or until marshmallows are golden brown!
TEMPEH TURKEY:
Finally, I also made some Tempeh Turkey! Now I am no chef, and usually like to make things quick & easy that taste good! So I "carved" my tempeh into thin slices, and boiled it with some stalks of rosemary for about 10 minutes. Then I heated up some of Pacific Foods vegan mushroom gravy, added fresh dill & chives, and poured it over the tempeh! This was so good and easy to make, I think I will have it more often than just Thanksgiving!!
HAPPY THANKSGIVING!!!