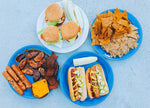 HOW TO HAVE A VEGAN TAILGATE
1. LOOK FOR VEGAN BUNS
Most grocery stores carry vegan buns.
Just make sure they don't contain any eggs or dairy.
2. FIND THE VEGAN SUBSTITUTIONS
Gardein is a wonderful brand that makes tons of vegan meats, everything from burger patties to chicken tenders, and even crab cakes. Available in most grocery stores.
Yves is another great brand that makes tons of great vegan hot dogs and meats. Available in most grocery stores. 
Sweet Earth makes a pretty decent vegan bacon that is definitely worth checking out. 
3. SAY CHEESE
2016 has been the year of the vegan cheese. Vegan cheese's used to be horrible, but now there are tons of AMAZING options that taste just like cheese! Follow Your Heart makes a great classic cheddar cheese slice that is perfect for making the ultimate vegan cheeseburger!
4. GET ALL OF THE TOPPINGS
Toppings and sauces really complete the meal. 
Ketchup, Mustard, & Relish are usually always vegan.
Hampton Creek makes an incredible vegan mayo that is available at most grocery stores. They also have a variety of sauces and other vegan products. 
Load up on tomatoes, onions, pickles, romaine lettuce, & avocado!
5. SIDE DISHES
Beanfields makes healthy versions of everyone's favorite potato chips. The Nacho & Ranch flavor are so good, and you don't even have to feel guilty about eating the entire bag.
These companies and brands have made it easy for us to continue to eat traditional foods like burgers & hot dogs. Allowing us to have the same tailgate experience, grilling and BBQing, so that we don't have to miss out on any flavor or fun. The best part about having a vegan tailgate is you can still indulge in burgers, hot dogs, and bacon, but with ZERO CHOLESTEROL. Making it healthy for you, while saving the animals, and helping the environment too! 
GO VEGAN AT YOUR NEXT TAILGATE - YOU CAN DO IT! 
#LettuceEatPlants