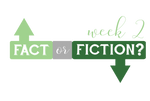 It's That Time of the Week Again - Fact or Fiction: Week 2
As an advocate for a cruelty-free, plant-based lifestyle, my goal is to not only keep learning and educating myself, but to share what I've learned with all of you!
If you follow @vegetaryn on Instagram, you may have noticed that I've introduced a "Fact or Fiction" post to give you some daily vegan wisdom! I'll be posting a few of them here each week so that if you missed any, need a recap, or just want to be the person at the party with all of the fun facts, you can have them on hand! Here are 5 more of my favorite facts (you can learn more by clicking on an image):
1. 
  
2. 
3.
4.
5.