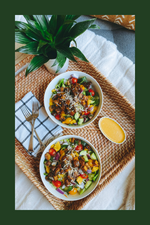 Taryn's Favorite Salad (Mushroom Miso Salad Recipe)
Learn how to make my favorite salad ever! It is so fresh and flavorful you must try it for yourself - the Mushroom Miso Salad w/ Ginger Dressing.
I've always enjoyed salads with ginger dressing that you get at your local sushi restaurant. When I discovered Trader Joe's had a delicious Carrot Ginger Miso Salad Dressing - I was inspired to create something next level. This salad will fill you up, have tons of flavor, and fuel your body with energy.  I've never been a huge salad person, but it's important to #EatYourGreens so I've been trying to incorporate tasty one's like this into my diet. I hope you enjoy this salad as much as me! As always if you make it or recreate it, please tag me in your photos @vegetaryn // #vegetaryn so I can see them!! It totally makes my day :) 
INGREDIENTS
Handful of curly kale
Handful of romaine lettuce
Cherry Tomatoes
1 Yellow Bell Pepper
1/2 Cucumber
1/2 Red Onion
Fresh Dill
2 tbsp. Soyaki ( from Trader Joe's or soy sauce)
6 Baby bella mushrooms
Follow Your Heart Parmesan (vegan)
1/2 Block of seasoned tofu
Carrot ginger miso salad dressing (I used a pre-made one from Trader Joe's)
DIRECTIONS
Cut and chop all veggies and tofu.
Then cook the mushrooms and tofu in a pan with Soyaki sauce.
As tofu and mushrooms cook, prepare and plate your salad.
Serve grilled mushrooms & tofu over salad.
Top with fresh dill and vegan parmesan.
Pour dressing over the top, or serve on the side.
Enjoy!
↓ SAVE THE RECIPE CARD BELOW ↓