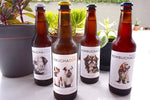 Kombucha Dog & #VegOutHangOut
If you haven't jumped on the Kombucha trend, now would be a good time to do so! Kombucha is a refreshing beverage that is produced from fermented tea. It is a powerful probiotic that works wonders for our digestive systems and general health. In my opinion, Kombucha is one of those things where the first time you try it, it is different and weird, but good and strangely addicting!
Kombucha Dog is one of my favorite Kombucha brands, not only beacuse they brew authentic Kombucha, but also because they offer amazing flavors like hint of mint and wild blueberry. What makes Kombucha Dog authentic? They brew full-strength Kombucha, meaning it contains over a 0.5% alcohol level. Rather than processing or diluting their Kombucha by any means, Kombucha Dog has chosen to sell its beverage only to people over 21 in order to bring you the highest quality, great tasting, and most genuine Kombucha on the Market. 
In addition to providing traditional Kombucha, Kombucha Dog also works with several local rescues. They photograph dogs in need of a home and these incredible photos make up their Kombucha labels. Each dog on their label is available for adoption and you can get in touch with the rescues/dogs through their website. How neat is that?
Kombucha Dog's brewery is located in downtown LA and it is an awesome space! If you want to come check out where they brew Kombucha, some of the dogs they works with, try some FREE samples of Kombucha, and meet other cruelty-free brands, join me at the Kombucha Dog Brewery for #VegOutHangOut this Friday, August 28th, 2015 from 6-9pm.  
FIND MORE INFORMTION & TICKETS HERE: https://www.eventbrite.com/e/veg-out-hang-out-tickets-17977444019
CHEERS! We hope to see you Friday #VegOutHangOut!
FIND MORE INFORMTION & TICKETS HERE: https://www.eventbrite.com/e/veg-out-hang-out-tickets-17977444019