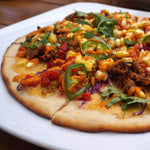 SunCafe Organic: One of the BEST restaurants in LA
I am very fortunate to live in beautiful Los Angeles, CA where there are endless options for plant-based eaters like myself. One of my all-time FAVORITE restaurants is SunCafe Organic. They have incredible food, full of flavor, with excellent portion sizes that will keep your stomach very happy! Not only is the food amazing, but the atmosphere of the restaurant is quaint and cozy, with a full wine & beer bar, complete with a multi-level patio and firepit! Join me on a photo tour of what it's like to eat at SunCafe: 
Upon arriving you may find yourself thirsty for one of their cool, refreshing Ginger Blasts! These are incredible and will make you feeling energized!
For an appetizer order some of SunCafe's Blistered Shishito Peppers that are cooked to perfection. 
Another appetizer to try are the Chili Fries. My favorite part of these fries are the fact that they use real potatoes. They are pee wee potatoes (bite-size) and topped with cashew sour cream & green onions. 
Enjoy a cup of classic French Onion Soup, topped with SunCafe's cashew cheese and croutons.
SIDE NOTE: The first time I ever came to SunCafe I ordered this soup and fell in love. I had dreams about it for a week. Now, I order it almost every single time I eat there. It is a must try! 
If you are a garlic lover, like me, you'll absolutely enjoy this dish and probably lick the plate clean...it's that good! These Lemon & Garlic Brussel Sprouts are a current special at SunCafe and if I could I'd have them on the permanent menu. They are flavorful, crunchy, and all around perfect!  
If you're a pizza fan, SunCafe's Pizza never dissappoints. The crust is thin and cooked just right, while always topped with an array of frutis & veggies. This Southwestern Pizza from SunCafe is one of the best pizzas ever. It's a special though, so hurry up and get it while you can! 
The Kona Bowl comes with teriyaki root vegetables & cauliflower, ponzu cucumber salad, edamame, organic corn, red cabbage, avocado, mango, black rice, scallions, and black & white sesame seets. It is so incredible, each bite is a burst of flavor!
Finally, last but not least is SunCafe's LA Funghi Special. It is an array of mushrooms on top of a corn chowder. It is presented beautifully, but tastes even better! This is a special too, so be sure to stop bySunCafe Organic soon!
SunCafe also offers a brand new premium juice cleanse. They offer a "classic" traditional juice cleanse package, but also a fully customizable cleanse that can be tailored to anyone'es needs whether it be targething inflammation, weight loss, lack of energy, etc. This is a great option beacuse you can go on a cleanse that is created just for you. Also, they are one of the only companies that uses amber bottles to perserve nutrient content as well as having a bottle deposit + return program to maintain sustainability. So if you're looking for a cleanse, SunCafe is the place to go!
As you can tell SunCafe Organic is an awesome restuarant that prides itself on having a diverse, flavor packed menu and doesnt feel you need to sacrafice nourishment for tase. I hope you try SunCafe and enjoy it as much as I do!
SunCafe is located at:
10820 Ventura Blvd.
Studio City, CA 91604
All photos by Taryn Rasgon of Vegetaryn.