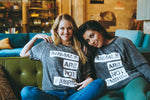 COLLABORATION WITH YOUR INSPIRATION: Vegetaryn X The Tree Kisser
Anyone who knows me, knows that I am very passionate about vegansim & girls supporting girls (especially in the small business world). That's why both of my companies, Vegetaryn and Biz Babez revolve around these two topics. 
When I first had the idea to start making vegan tees, I did my research to see if there was any competition or if my ideas had already been done. At the time (over 5 years ago) there weren't many vegan tee companies. However, there was one that really inspired me to start - The Tree Kisser. Her shop was filled with cute shirts & cozy sweatshirts with witty sayings about saving animals. This is what led me to think about what sayings I could put on shirts. I started brainstorming funny & punny phrases about eating your fruits and veggies, and birthed my first two designs, LETTUCE EAT PLANTS & IF LOOKS COULD KALE.
Over the years, Jess, from The Tree Kisser and I have remained internet friends who support each other and our respective businesses. Up until 2017, she owned and operated The Tree Kisser online apparel store, which she created to help raise money and awareness for animal rescue and animal advocacy issues. I was always a huge fan of her line!
That's why I was so honored when Jess hit me up to bring her shirts back to life as a Vegetaryn X The Tree Kisser collab! You can now shop The Tree Kisser's awesome designs on vegetaryn.com - just click here! This is so exciting for me and truly a huge milestone, considering I now get to collaborate with one of the brands that inspired me to start! 
And if you're looking for more information about making more animal-friendly choices, learning how to help shelter pets, the latest in cruelty-free beauty, or what's trending in the vegan fashion world then head to The Tree Kisser's Blog where she has tons of guides, resources, and tips!
XOXO
-Taryn