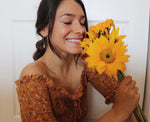 Ashley Marah - NEVER MET HERBIVORE
Ashley is wearing the Unisex NOT MILK hoodie and Taryn is wearing the Unisex IF LOOKS COULD KALE sweatshirt. 

WHEN did you go vegan?
I went vegan right after graduating high school in 2014. I was vegetarian for a few years before that and the transition came very naturally to me. 
WHO inspired you to go vegan?
I was inspired to go vegan after watching a documentary in my environmental science class that exposed the harsh reality of animal cruelty. I continued educating myself through various media outlets and there was no turning back after that!
WHAT benefits have you experienced since going vegan?
Veganism has positively influenced every aspect of my life, as cliché as it may sound. I have experienced improved energy levels, clearer skin, better digestion, and an overall greater connection to myself and the world around me. 
WHERE is your favorite place to eat?
My favorite vegan restaurant has to be Cafe Gratitude. I love the Asian Kale and Wakame salad filled with various sea vegetables. I also adore the mantra-based menu there. 
WHY are you vegan? 
I am vegan for the animals, the environment, and my health. It is extremely fulfilling to lead a compassion-focused life and it has fueled me with beautiful connections, friendships, and career opportunities that I am incredibly grateful for. 
Ashley Marah, formerly known as "Raw in College", is a 22 year-old-soul living in NYC. She recently graduated from the University of Wisconsin-Madison with a Bachelor of Science in Community and Nonprofit Leadership. She is a passionate millennial hoping to inspire others to live with purpose and intention. As an activist, she strives to increase awareness and inspire others through her social media platforms by sharing thoughtful, creative content that encourages growth and compassion. She is working full-time as the Marketing Coordinator and Content Curator for PLANTLAB. 
At this moment in time, she is most likely day-dreaming about her next travel destination, brainstorming what she can do to make this world a better place, nestled in a charming coffee shop, exploring, or out shooting photos :)
Connect with Ashley on her social media platforms for vegan eats, adventures, art, and more: