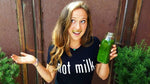 Katie Reines from Vitamin Katie - NEVER MET HERBIVORE
Katie is wearing the women's EAT YOUR VEGGIES festival crop top.
WHEN did you go vegan?
When I was a senior in high school, I pledged to go vegan for 30 days as a new years resolution through PETA.com on January 1, 2011. I loved all the food I was trying and how I felt so much that I continued veganism, started working at a raw vegan café, and was raw vegan for a few months that summer.
WHO inspired you to go vegan?
My sister, Mary's transition to vegetarian inspired me initially. Then, Alicia Silverstone with her book, "The Kind Diet" is who really got me excited about going vegan.
Katie is wearing the NOT MILK tee in black.
WHAT benefits have you experienced since going vegan?
I felt a significant shift in my mental and spiritual health transitioning to veganism. I feel so good about what I eat - with the intention to heal myself, save animals, and improve the environment. I love the feeling like I'm a part of something bigger than myself that is so radically positive.
WHERE is your favorite place to eat?
Yoga-urt in Glendale BEST ice cream spot. I get the peanut butter prana swirled with double dark chocolate bliss in a vegan waffle cone! Otherwise, if we're talking a real meal. Thai Green Curry with brown rice, or an authentic Israeli falafel sandwich are my top cravings lately.
WHY are you vegan? 
SO MANY REASONS!! I am vegan because I am significantly reducing my chances of getting heart disease, the leading cause of death. I am helping to reverse global warming and animal suffering, and, as a vegan for almost 8 years, I hope to be a relatable and powerful force, showing that it is possible to be happy and healthy while saving the world with a plant based diet.  Hope to make a believer out of you! xox
Katie is wearing the NOT MILK tee in black.
Katie Reines is the founder and CEO of Vitamin Katie: Plant Based Holistic Health and Nutritional Counseling. She is the dietitian at the Pasadena Weight Loss Center in California and the chef at "The Shift" women's retreats. She is also a dancer, yoga instructor, certified personal trainer, and takes a glass jar and reusable bags with her everywhere just for that impromptu smoothie or grocery purchase.
Connect with Katie on her social media platforms: