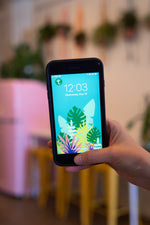 Keep Spreading the Vegan Message with These FREE Digital Downloads
Why should we limit spreading the vegan message just to what we eat and wear? Let's start the conversation right from the screens we love so much!
Use these FREE digital downloads to get the vegan topic started by setting them as your background on your phone and computer!
 Follow these simple instructions to download your new backgrounds:
1. Click on the desired link:
             PHONE BACKGROUND                 LAPTOP BACKGROUND
2. Click the download symbol  
3. Click "Save Image"
4. Go into your photos and click on the image that has been downloaded
5. Click the 
 symbol in the bottom left corner 
6. Slide to the right of the bottom row of icons and click "Use as Wallpaper"
7. Make sure the image is fully zoomed out and click "Set"
8. You will be given the option to set it as the lock screen, home screen, or both!