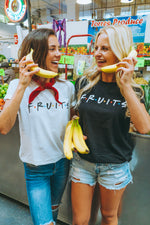 Organic Tees and Sweatshirts - Official Launch!
Some of you may have caught a glimpse of my new organic line from recent sneak peeks on my Instagram stories or from being the beautiful, friendly faces stopping by the Vegetaryn booth at LB Vegan Fest and Vegan Faire. Well the time has finally come for the official launch of the NEW ORGANIC TEES AND SWEATSHIRTS! 
I'm testing out the waters by introducing tees and sweatshirts made locally with 100% Organic cotton. Many people are unfamiliar with the idea and benefits of organic clothing (as I was up until recently). Simply put, organic clothing is made with minimal chemicals and has a limited impact on the environment. It is a way to produce clothing in an environmentally conscious way, omitting fabrics that involve the use of harmful pesticides or release of microfibers that pollute our planet. Not only does it benefit the planet, but it's healthier for the farmers growing the cotton and for the people who cut & sew each shirt together (I know them personally, how cool is that?). Together, we have the power to vote with our dollars by supporting slow fashion and ethical clothing businesses.  
We have two new designs:

F

R

U

I

T

S

and

VEGAN
FRUITS is available in a black UNISEX tee, a white UNISEX tee, and a UNISEX sweatshirt:
VEGAN is available in a WOMEN'S tee, a WOMEN'S tank, and a UNISEX sweatshirt:
I would love to hear your feedback to find out what you guys think!
If you'd like to learn more about eco-friendly fashion and organic cotton, refer to my blog post that goes much more in depth on the topic!
Hope you enjoy the new organic designs!!

Thank you for your continued support!
XO 
-Taryn